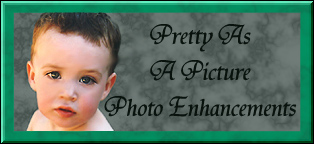 Welcome to our new site. Come in and look around.
I started this website to offer photo enhancements at very reasonable prices.
My philosophy is that enhanced photos need not look "fake". I have seen quite a few so called enhancements that turned a sweet child into something that did not look human. I don't want to completely change someone's appearance, just bring out the best in a photo, and make adjustments that will be pleasing to the eye.
Enhanced photos are great for photo contests, or to add a beautiful personal touch to your cards or christmas letters this year. I have done my own enhancements for a while now, and have had great results, so I decided to start doing enhancements as a business.
I hope to make a few online friends as well.
Please email with questions.
Kris
Click here to send me an email
***NEW***
Want to hear what people are saying about my work? Check out the guestbook! Be one of the first to sign!